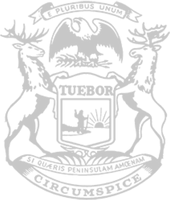 Rep. Damoose introduces legislation to help protect Mackinac Bridge, other critical infrastructure
Plan would designate bridge as key facility
State Rep. John Damoose today delivered testimony before the House Committee on Transportation in support of his legislation to increase penalties for people who trespass on the Mackinac Bridge.
Damoose said the possibility of heightened penalties could help deter illegal walking or climbing on the bridge. Damoose said people who trespass on the bridge not only risk their own safety, but also cause security concerns for the bridge itself. In June 2021, a man with a backpack scaled the underside of the bridge, forcing a temporary closure of the bridge.
"Temporary shutdowns force us all to consider just how much our state relies on the majestic Mackinac Bridge," said Damoose, of Harbor Springs. "If the worst were to happen to it, God forbid, our state could literally be divided for years, inflicting grave damage to the economic well-being of our state — and nation. We cannot afford to play any games with the security of the Mackinac Bridge.
"Enhanced protection for this critical infrastructure is needed to deter bad actors from risking traffic safety or bridge security. My plan will protect our state's most famous landmark and most important bridge — the very piece of infrastructure that defines our state and links our two distinct peninsulas."
Damoose's House Bill 5315 would designate the Mackinac Bridge as a key facility. Under state law, intentionally entering or remaining in a key facility without authorization is a felony, punishable by up to four years in prison and a fine of $2,500. Currently, key facilities include, among others: chemical manufacturing facilities, refineries, power plants, hazardous waste storage, cell phone towers, ports and trucking terminals.
"Each key facility either contains such inherent risk that an attack of any form would pose a grave danger to our state, or it is absolutely critical to the ongoing functioning of our state," Damoose said. "These are places we cannot live without — and the Mackinac Bridge clearly belongs on the list."
Damoose is working with the committee to amend HB 5315 to add other critical bridges to the list of key facilities, including the international bridges to Canada in Sault Ste. Marie, Port Huron and Detroit.
HB 5315 remains under consideration by the committee.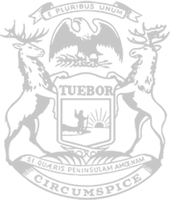 © 2009 - 2022 Michigan House Republicans. All Rights Reserved.
This site is protected by reCAPTCHA and the Google Privacy Policy and Terms of Service apply.